Firm Qualifications and Experience
Our success is centered around the positive impacts we have made on the communities we serve. HTG's leadership has served as General Managers, Regional Managers, and Senior Vice Presidents to twenty-seven (27) different public transportation systems throughout the United States with annual budgets over $162 million.
 In their leadership roles, HTG's team developed new innovative transit systems, constructed numerous facilities, expanded transit capacity, and
maintained equipment at the highest levels. HTG's contributions to these transit systems resulted in meeting established community needs based upon available resources and effective planning methods while maintaining the highest levels of customer service. Aside from transportation management, HTG's staff has experience in multi-modal transit systems, transfer stations, advertising programs, parking garage facilities, Park-n-Ride systems, regional transportation systems, rural systems, fixed route service with ADA complementary paratransit service, non-emergency medical transportation services and capital program management including facility development. 
All of our experiences allow our team to facilitate discussions during public meetings with a broad understanding of how overall community expectations and goals greatly affect the daily operations and financial constraints of a transit system while still maintaining local, state, and federal requirements.  At HTG, we understand the diversity between each community we serve and focus our efforts on meeting the needs as defined by those individual communities and the clients we serve.
HTG was formed in July 2019 and the first management contract acquired was Lawton, Oklahoma in December 2019. In March 2020, HTG was asked to manage DCTA (Denton County Transit Authority) bus operations for one year. Also in March 2020, the COVID 19 Pandemic hit full force which had devastating effects on the Country but HTG continued to grow.
Fortunately for us, we have been very busy. Here are a couple of other projects we are working on:
• Received a new contract extension with DCTA after a very successful completion of our first contract.
• We were selected to develop the Southwest Area Regional Transit (SWART) five-year regional coordination plan.
• We were selected to develop the Lawton Transit Master Plan.
• TXDOT – Vehicle Specifications for SmartBuy and Developed Cares Act Resilience statewide plan. HTG's staff have many years of experience utilizing technology as a development tool for improving fixed-route, ADA
paratransit, and rural demand-response transportation services. These development tools provide measurable metrics that guide transit service into sustainable transit solutions that help transform defined service areas into multimodal mobility communities. HTG can develop a range of scenarios including facility and equipment recommendations, budget reduction concepts, cost-neutral services, and future growth options. Some improvements may be introduced within the current budget limitations, while other recommendations may need to be planned for future transportation service implementation. HTG is the only transit management firm to work directly for TxDOT as a prime contractor on multiple projects. Our team developed the current specifications for all transit vehicles listed on the Texas SmartBuy program, and we were also tasked with developing the overall Resilience program for the Public Transportation Division of TxDOT. Members of our team were instrumental in the original development of the region coordination plans to meet the requirements of HB 3588. We believe these are the types of corporate assistance that complement our project team and will be beneficial to WTO over the term of this contract and beyond. Our team brings the experience and expertise to manage, administer and provide professional services in the areas of project management, transit asset condition assessments and procurement oversight for the West Texas Opportunities, Inc. Transportation Division. Our employees have direct working experience in managing and providing oversight to numerous transit systems similar in size to WTO throughout the United States over the past 10 years: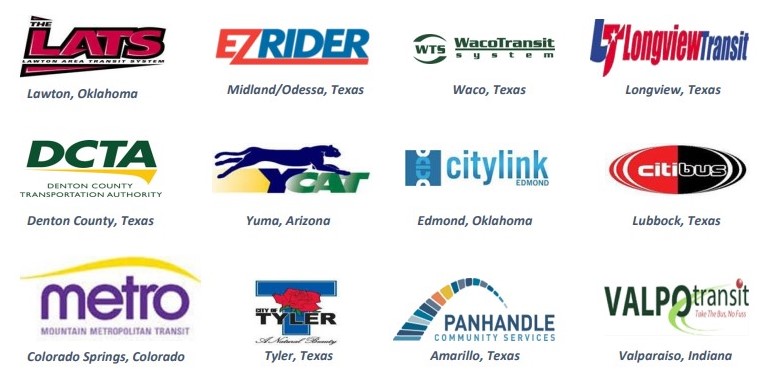 With this in mind, HTG's relationships and understanding of funding mechanisms allows us to not only help you plan transit service improvements, but we help you develop the funding mechanisms to bring those plans into reality. For example, HTG has assisted Panhandle Community Services (PCS) with obtaining over $10 million dollars to design and build a new maintenance and operations facility. We have been engaged with this project from the very beginning to the current stage of design. Our team is leading the project through the design phase and have secured the required funding to start construction in the fall of 2021. Our goal is to have PCS fully operational in their new facility by the end of next year. This is just one example of how our dedication, resource management, and firm experience can develop ideas into reality.